About Paper Shredding Machines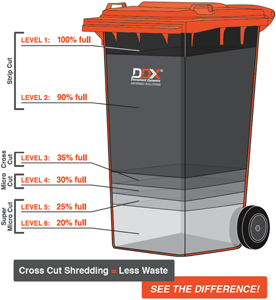 Paper is cut paper into many strips or confetti like particles after shredding, with reconstruction of shredded information highly unlikely. Paper shredding machines are available for home, office or industrial use, available in many different sizes.
Offices that identify the need for paper shredders realise an information leak can be a serious matter, easily prevented by shredding their confidential information. Sound risk management policy often identifies the need to "Shred On Demand" employee and certain office information, knowing the release of certain data using inadequate disposal methods could present damaging consequences detrimental to their reputation and many aspects of operation.
Destruction of your information into thousands of unrecognisable pieces is acheived by using cross cut paper shredders also known as diamond cut, confetti cut, micro cut and super micro cut. Shredding your information into many strips is acheived by using strip cut paper shredders also known as straight cut or spaghetti cut. Strip cut paper shredders are often used as a warehouse shredder, used to produce packaging for fragile items.
Be it a few pages or many thousands of sheets you need a paper shredder for, you will find a suitable size and security level in our wide model range. Tip: cross cut shredders provide far better security and far less shredded waste compared to strip cut shredders.
Home use paper shredders are usually aquired to prevent identity theft. Most business and government offices use more heavy duty office use shredders to prevent information security risk and breaches. These larger commercial office shredders are more heavy duty, not overheating or easily overloaded. These fast shredders secure important classified, confidential and top secret information with some models shredding over a ream per minute. CD, DVD and Blu-ray media often needs to be protected by shredding with some dual purpose and dedicated optical media shredders.